The important part of the installation Return to Sender is inside the house made of waste bales: With a video, the collective The Nest Collective from Kenya informs about the topic of old clothes: Collected here as donations and declared as charitable, our throwaway fashion is no longer desired in African countries – the background is explosive, especially politically.
Fast fashion for the landfill
In essence, the criticism is that for years the textile bales have contained too high a proportion of fast fashion, meaning cheap fashion that even in Africa can no longer be recycled. These old clothes land then directly on the garbage dump, explains to me one of the activists and artists, Sunny Dolat in Kassel. Thus the donated textiles become locally a problem, namely for the environment. In plain language: the activists of The Nest Collective reproach the companies involved for disposing of their textile waste in landfills in Africa in this way.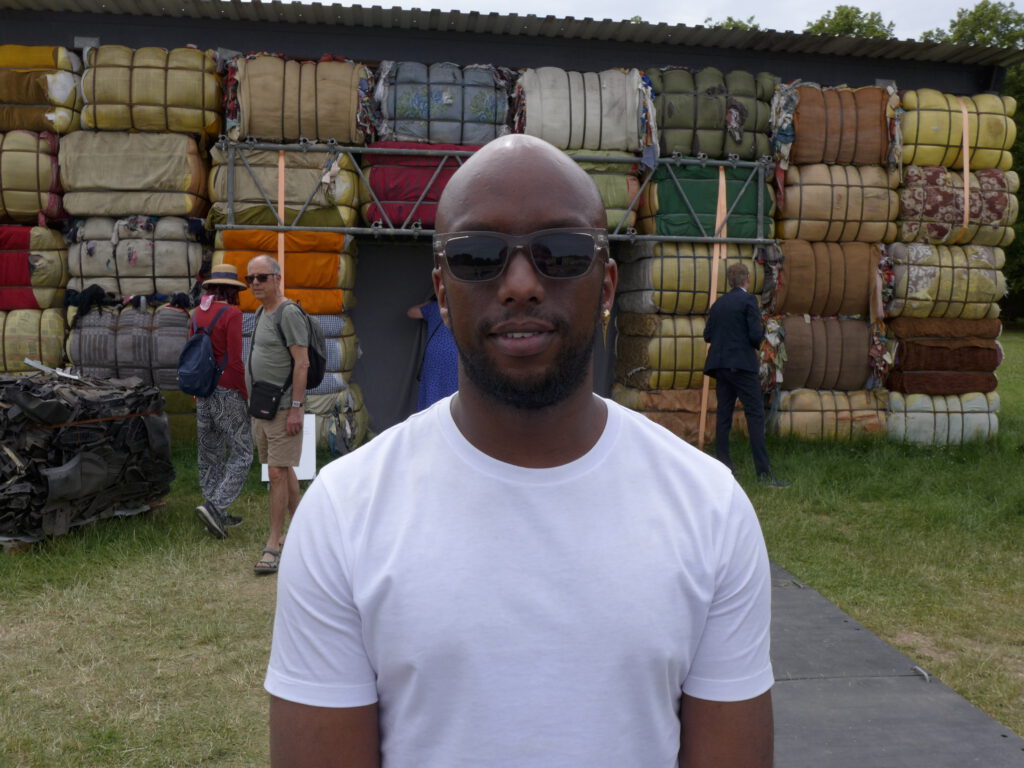 A question of dignity
One aspect that many of us are not always aware of is that the people on the ground in Africa also feel that they are wearing worn textiles. The reason why many people resort to second-hand articles is clear: they simply cannot afford other things. One of the African interview partners in the video obviously has a good income – he wears a top elegant suit with pocketkerchief. And he puts it this way: For him, it is also a political question whether he can choose in the morning which of his suits he wants to wear that day. Incidentally, he says, it is extremely important for families to appear with their children in new clothes at church or wherever on special holidays.
Are our donations of no use at all?
The issue is complex. And some facts presented by The Nest Collective should be kept in mind: Because according to them, the really good, usable textiles are already sorted out on site, whether in Germany or in the USA. The textile bales with a high proportion of unusable items, according to the activists, then go to Africa, where small traders sell them at markets, and in this way make ends meet financially. This is the charitable aspect to the whole story. And this is the ugly side: As activist Sunny Dolat in Kassel tells me, the domestic industry cannot keep up with the cheap prices. This is said to have already cost thousands of jobs, thus bringing people into poverty.
As simple as it may sound, the case cannot be solved. The interest of the lobbyists of the recycling industry in the USA is said to be particularly high that this situation remains.
Here is the link to my first article on the Return to Sender art project.
https://hamburgarts.de/documenta-fifteen-return-to-sender-unser-muell-kommt-zurueck/
Autor: Kay Dethlefs