This post is also available in:

Deutsch (German)
The installation "Return to Sender" is possibly the largest art object at this documenta. That's why it deserves special attention, especially since the topic concerns each and every one of us. In short: Many African countries no longer want our old clothes! Impressively demonstrated with a construction of piled up textile bales, which one can enter inside. On site in Kassel I meet Sunny Dolat from Kenya, who represents the artist group The Nest Collective. Sunny Dolat co-founded this collective ten years ago, so he sees himself as an activist and also as an artist: fashion designer, curator and creative director in Nairobi.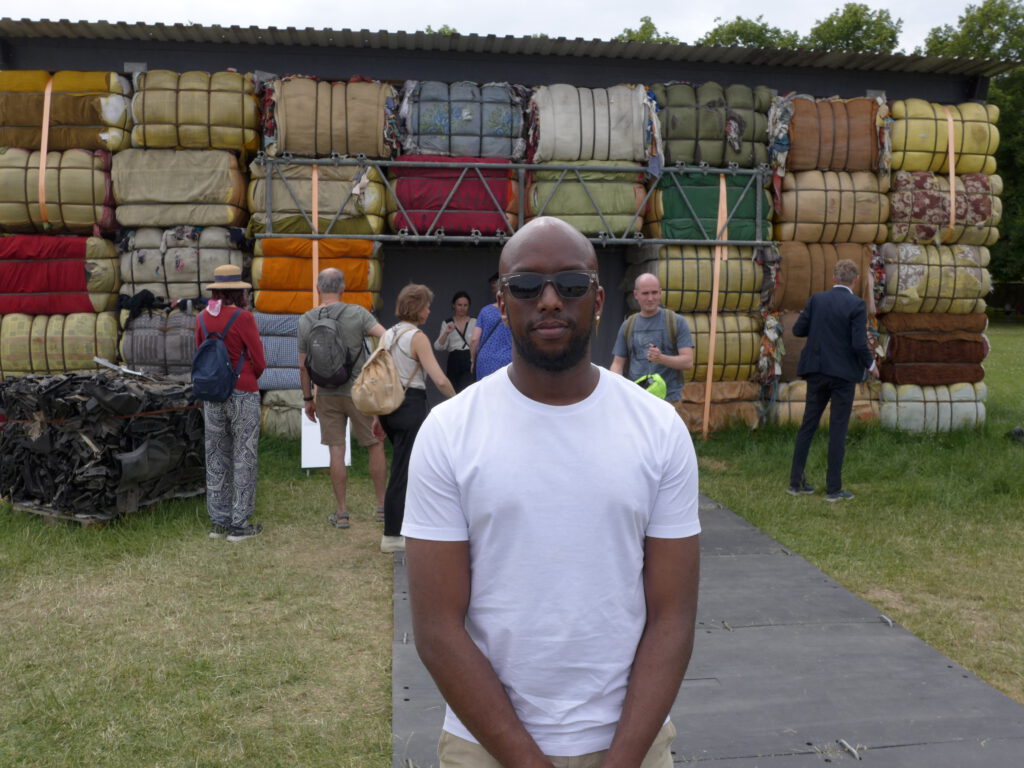 The subject of recycling and the trade in old clothes is frequently a topic of discussion. And yet many simply hope that the sorted clothes that we throw into containers will ultimately benefit "a good cause". Now comes this collective and says: Stop! Take back your garbage! The artist and activist Sunny Dolat, with whom I was able to speak in Kassel, gives several reasons for this.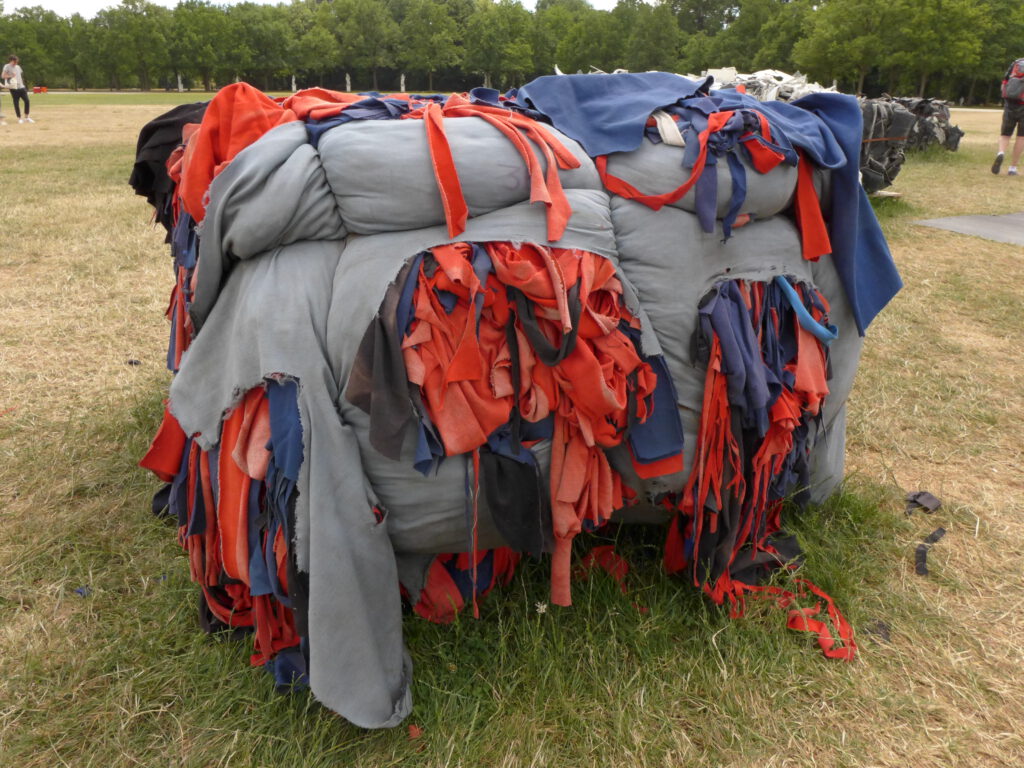 Artist Sunny Dolat, The Nest Collective, Kenya
We are standing in front of the art object, a building made of textile bales. Asked about the idea for this installation, Sunny Dolat gets straight to the point: "We look at the ways in which the global North has smuggled its waste into the global South under the guise of Second Hand." Kenya, for example, has been receiving second-hand old clothes since the 1980s, but the quality of the old clothes has declined sharply, especially in the past ten years. And that, he said, is due to the high proportion of fast fashion. A textile bale, a single package of old clothes, is increasingly becoming textile waste. "If before about 70% of a bale was usable, today you find that about 40% of it is still usable. This means that a large proportion of bales of old clothes are going straight to landfill."
Second-hand clothing in Africa – a growing problem
The issue is explosive and political, because this development harms on several levels. "So much ends up in landfills that the environment suffers," says the fashion designer. In addition, he says, the imported old clothes, which are then sold at markets, are very cheap. Small local traders do earn some money with them. On the other hand, Kenya's textile companies could not possibly compete with these prices. And it is exactly this situation that the work "Return to Sender" deals with: The imported old clothes from the so-called Global North are a growing problem in Kenya as in other African countries. From us as a donation well-meaning and guilelessly deposited in the old clothes container – the consequences in Kenya and elsewhere can be devastating – this is what The Nest Collective wants to point out.
Here is the link to my second story about this issue: A question of dignity:
https://hamburgarts.de/documenta-fifteen-eine-frage-der-wuerde-return-to-sender/

The Link to The Nest Collective at documenta fifteen
https://documenta-fifteen.de/lumbung-member-kuenstlerinnen/the-nest-collective/
The Link to the website of The Nest Collective: thisisthenest
https://www.thisisthenest.com/
Further Information about Sunny Dolat
https://hautefashionafrica.com/designer/sunny-dolat/
Autor: Kay Dethlefs