This post is also available in:

Deutsch (German)
Hamburg's new insider tip in the art scene is Reginenstrasse No. 8, an address that sounds friendly and homely, reminiscent of a quiet side street. If you get off at the bus stop Billhorner Röhrendamm in Rothenburgsort, you can already guess that things will be different.
Reginenstraße is located between unadorned office buildings and the feeder road to the motorway – shipping containers are stored here and a lot of trucks park along the street.
Only a second glance reveals: Yes, in this industrial landscape there really is art – in a former gatehouse on a company site.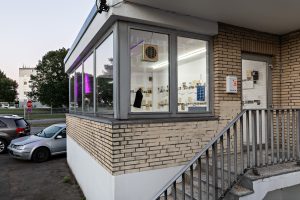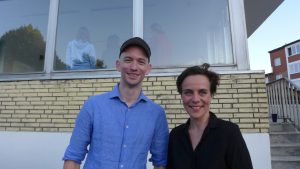 "I right away got a crush on this room!"
This project is the idea of two professionals from the art business: Nadine Droste from Hamburg and the Austrian Nick Oberthaler. The two want to give young artists a chance to try themselves out. The gatehouse is not a gallery, nothing is sold here either. Artists from Hamburg and also from Austria get a chance to experiment, away from the commercial gallery business. This unusual project bears the name VIS, Latin for "power". The idea is well received. Both get funding from the City of Hamburg and Austria. For Nadine Droste it was clear that it should be a room in the districts Hammerbrook or Rothenburgsort. "I right away got a crush on this room," says the curator. And the artist Nick Oberthaler is also enthusiastic: "There is no such quarter with such a room in Vienna at all. He takes a critical look at rents in Hamburg: "Prices are sometimes twice as high as in Vienna".
"Dense cloud" – Exhibition by Torben Wessel
The Hamburg-based artist Torben Wessel, student at the "Hochschule für bildende Künste" (HfbK), got the chance to exhibit here. He deals with phenomena on the Internet and the digital world.
He created the video installation "shuffle" especially for this room. Photographs are the starting point. The work, a 3D animation, was then created in the computer. And he spent weeks on it. "Calculating a falling drop alone can take three quarters of a day," he says. Most of the knowledge he taught Torben Wessel himself, because the art movement is still new.
Video installation "shuffle", Torben Wessel, Hamburg, 2018:
The two exhibition organizers are satisfied with the response to art in the gatehouse – their project has got around in the art scene and in the social media. Female artists from Austria are expected here soon.
Information on future exhibitions and the newsletter can be found here:
http://www.vis20539.com